This was breakfast: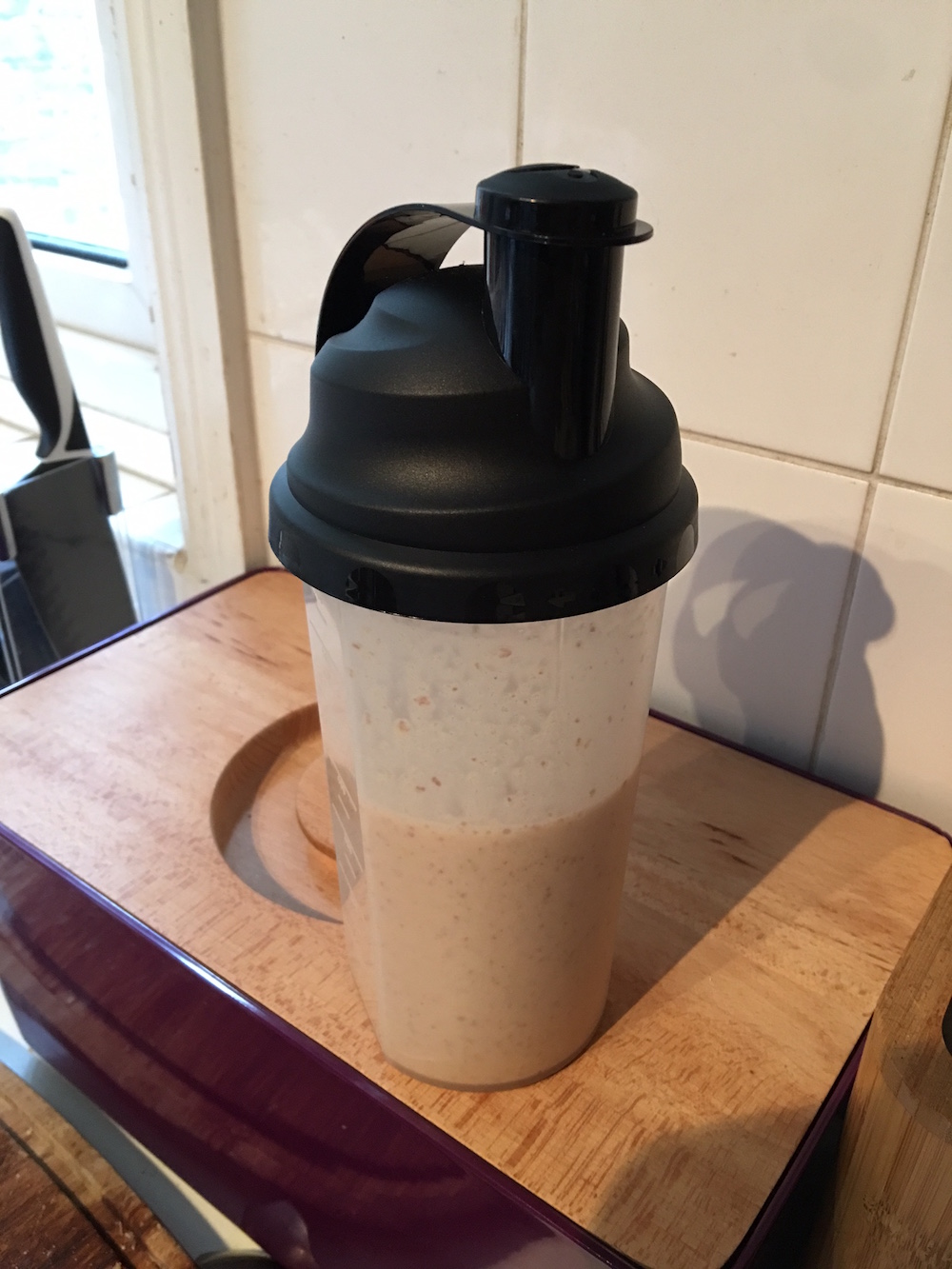 Two scoops of powder, in about 500ml of water, makes a watery thing that's half porridge, half smoothie. I got the vanilla flavour (it comes in in "regular" and vanilla) and it doesn't taste unpleasant, but it doesn't really taste nice, either. It tastes… liveable with. Just. I fell upon my morning coffee with even more gusto that I usually would, desperate for something with a flavour that I actively enjoy.
Texture wise, this first batch came out with a generally slightly gritty mouthfeel, and contained the odd lump, which made it slightly porridge-like. Diluting a bit more than they suggested improved the texture. It made it smoother and waterier, the latter of which doesn't sound like an improvement, but actually I found it stopped it being neither one thing nor the other, and made it into, well, a drink. It also cut the sweetness of it a bit, which was good.
I also bought a flavouring for this (they supply flavourings separately) so I guess tomorrow morning, I'll see how Rhubarb and Custard Huel tastes.
How do I currently feel about a month where this is the primary thing I live on? Well, I'm certainly going to be conducting a lot of experiments into how to improve this. My friend Derek has already been at this so I may steal some of his ideas, but I suspect that simply trying adding stuff like cinnamon and banana, and using a blender to make it (which will apparently improve the texture) will be first on the list.
I'm also working on the assumption that the human sense of taste being what it is (trainable), I'll feel better about it in a few weeks than I currently do. I really hope I will, or I'm not going to enjoy August much at all.
On the bright side, the washing up was a doddle.